A securities class action has been filed against Atlassian Corporation (TEAM) on behalf of all persons or entities who purchased and/or acquired Atlassian ordinary shares and/or common stock between August 5, 2022 through November 3, 2022.  This case has been filed in the USDC – N.D.CA.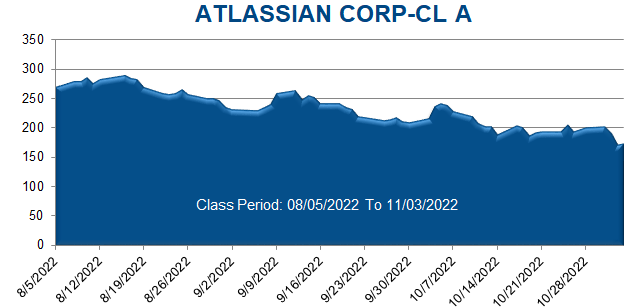 Atlassian develops and sells collaboration and project-management software that operates both on premises and in the cloud. The Company derives a majority of its revenue from its Jira Software and Confluence software products. The Company generates revenue primarily from license subscriptions both from free users who convert to paying customers when they exceed the cap on free licenses, and from existing paying users who expand their existing subscriptions. In 2020, Atlassian began to transition its clients to the cloud, which has accounted for a rapidly growing portion of the Company's revenues.
Undisclosed to investors, throughout the Class Period, Atlassian overstated its financial guidance by concealing trends of slowing conversions from free users to paying customers and slowing growth in paying-user expansion. As a result, Defendants' positive statements about the Company's business, operations, and prospects during the Class Period were materially false and /or misleading.