A securities class action has been filed against Aurinia Pharmaceuticals Inc. (AUPH) n behalf of a class consisting of all persons and entities other than Defendants that purchased or otherwise acquired Aurinia securities between May 7, 2021 through February 25, 2022.  This case has been filed in the USDC – E.D.N.Y.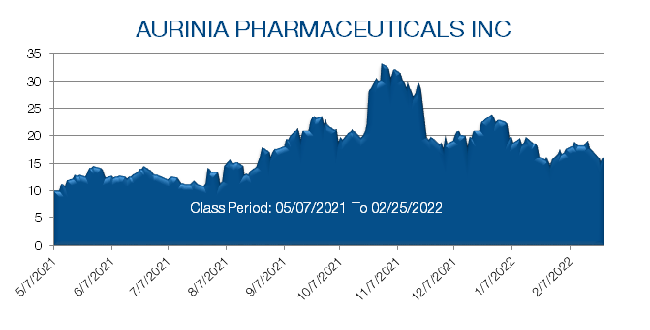 The complaint alleges that throughout the Class Period, Defendants made materially false and misleading statements regarding the Company's business, operations, and compliance policies. Specifically, Defendants made false and/or misleading statements and/or failed to disclose that: (i) Aurinia was experiencing declining revenues; (ii) Aurinia's 2022 sales outlook for LUPKYNIS would fall well short of expectations; (iii) accordingly, the Company had significantly overstated LUPKYNIS's
commercial prospects; (iv) as a result, the Company had overstated its financial position and/or prospects for 2022; and (v) as a result, the Company's public statements were materially false and misleading at all relevant times.
On February 28, 2022, Aurinia issued a press release announcing its financial results for the quarter and full year ended December 31, 2021. Among other items, Aurinia reported a year-over-year revenue decline and announced a lower-than-expected sales outlook for 2022.
On this news, Aurinia's stock price fell $3.94 per share, or 24%, to close at $12.30 per share on February 28, 2022, damaging investors.