A securities class action has been filed against Digital Turbine, Inc. (APPS) on behalf of persons and entities that purchased or otherwise acquired Digital Turbine securities between August 9, 2021 through May 17, 2022.  This case has been filed in the USDC – E.D.N.Y.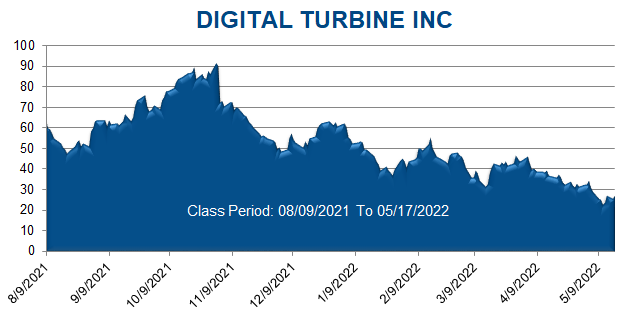 On May 17, 2022, Digital Turbine, Inc. announced that it will restate its financial statements for the interim periods ended June 30, 2021, September 30, 2021, and December 31, 2021, following a review of the presentation of revenue net of license fees and revenue share for the Company's recently acquired businesses.
On this news, shares of Digital Turbine fell more than 7% in intraday trading on May 18, 2022.
Then on May 31, 2022, after the market closed, Digital Turbine released financial results for the quarter ending March 31, 2022, in which the company delayed filing its annual report, due to the identification of a material weakness in its internal controls over financial reporting.
Shares of Digital Turbine stock dropped more than 20% in intraday trading on June 1, 2022.