A securities class action has been filed against Fidelity National Information Services, Inc. (FIS) on behalf of all persons or entities who purchased Fidelity National common stock between February 9, 2021 through February 10, 2023.  This case has been filed in the USDC – M.D.FL.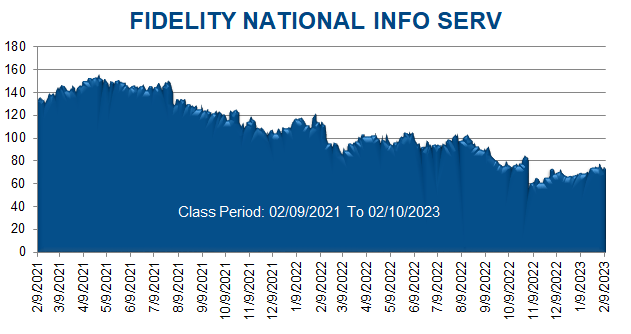 The complaint alleges that Fidelity National and certain of its officers and/or directors have engaged in securities fraud or other unlawful business practices.  In 2019, Fidelity National acquired the payment-processing company Worldpay Inc. ("Worldpay") for $48 billion. Then, on February 13, 2023, Fidelity National booked a $17.6 billion write-down on its Worldpay business and announced plans to spin off the unit.
On this news, Fidelity National's stock price fell $9.43 per share, or 12.5%, to close at $66.00 on February 13, 2023.