A securities class action has been filed against Generac Holdings Inc. (GNRC) on behalf of persons or entities who purchased or otherwise acquired publicly traded Generac securities between February 23, 2021 through July 29, 2021.  This case has been filed in the USDC – C.D.CA.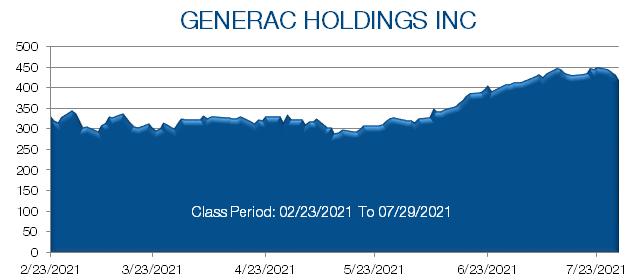 The Complaint alleges that on July 29, 2021, Generac recalled several generators models after multiple reports of fingers being injured in the machines, according to the Consumer Product Safety Commission (CPSC). According to the CPSC, "Generac has received eight reports of injuries, seven resulting in finger amputations and one in finger crushing." The generators were sold at major home improvement and hardware stores nationwide and online from June 2013 through June 2021.
On this news, Generac's stock price fell $31.04 per share, or 7%, from its July 28, 2021 closing price over the next three trading days to close at $400.00 per share on August 2, 2021, damaging investors.