A securities class action has been filed against Hawaiian Electric Industries, Inc. (HE) on behalf of a class consisting of all persons and entities other than Defendants that purchased or otherwise acquired Hawaiian Electric securities between February 28, 2019 through August 16, 2023.  This case has been filed in the USDC – N.D.CA.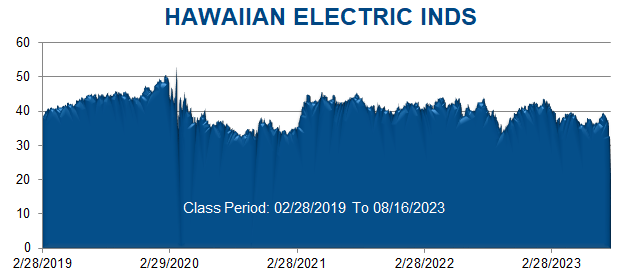 The complaint alleges that, unknown to investors, (1) Hawaiian Electric's wildfire prevention and safety protocols and procedures were inadequate to meet the challenges for which they were ostensibly designed, and (2) accordingly, despite knowing the degree of risk that wildfires posed to Maui, the company's inadequate safety protocols and procedures placed Maui at a heightened risk of devastating wildfires.
On Aug. 12, 2023 (after historic wildfires broke out in Maui, killing dozens of people and causing billions of dollars of damage), The Washington Post reported that "[b]efore the Maui wildfires, Hawaiian Electric did not have a plan – adopted widely in California and other states – to shut off power in certain lines in advance of dangerous winds." According to the Post "Hawaiian Electric was aware that a power shut-off was an effective strategy, documents show, but had not adopted it as part of its fire-mitigation plans, according to the company and two former power and energy officials interviewed by The Washington Post." Citing a former member of the Hawaii Public Utilities Commission, the Post reported that the decision to avoid shutting off power "is reflective of the utility's struggles to bolster its aging and vulnerable infrastructure against wildfires[.]"
Then, on Aug. 16, 2023, The Wall Street Journal reported that Hawaiian Electric is in talks with restructuring firms and is exploring options to address its financial and legal challenges arising from the Maui wildfires.
The next day, the WSJ reported that, while knowing of wildfire threats, Hawaiian Electric spent less than $245,000 between 2019 and 2022 on Maui wildfire-specific projects.
This news drove the price of Hawaiian Electric shares and bonds sharply lower.