A securities class action has been filed against Honda Motor Co., Ltd. (HMC) on behalf of a class consisting of all persons and entities other than Defendants that purchased or otherwise acquired Honda American Depository Shares ("ADSs") between June 20, 2018 through September 28, 2022.  This case has been filed in the USDC – C.D.CA.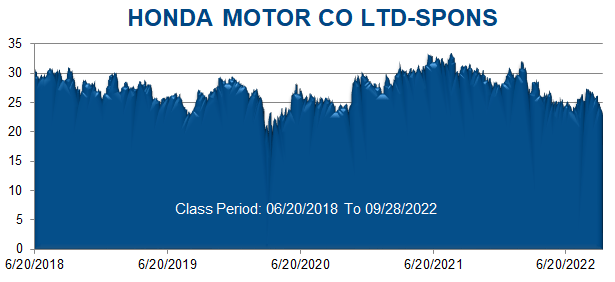 Honda is a multinational conglomerate manufacturer of automobiles, motorcycles and power equipment. The Company's U.S.-based operations are conducted through its North American subsidiary, American Honda Motor Company, Inc. ("American Honda").
Throughout the Class Period, Defendants made materially false and misleading statements regarding the Company's business, operations, and compliance policies. Specifically, Defendants made false and/or misleading statements and/or failed to disclose that: (i) Honda had overstated the safety and effectiveness of the Idle Stop engine feature; (ii) Honda maintained deficient disclosure controls and procedures with respect to product quality and safety; (iii) as a result of the foregoing deficiencies, Honda failed to prevent American Honda from marketing and selling thousands of vehicles that contained a defective Idle Stop feature; (iv) the foregoing conduct subjected the Company and/or its subsidiaries to a heightened risk of litigation, as well as financial and/or reputational harm; and (v) as a result, the Company's public statements were materially false and misleading at all relevant times.