A securities class action has been filed against loanDepot, Inc. (LDIE) on behalf of all persons and entities who purchased or acquired shares of loanDepot, Inc. ("loanDepot" or the "Company") pursuant  or traceable  to  the  Company's  Registration  Statement  and  Prospectus (together, the  "Offering Documents")  issued in connection with the  Company's February 16, 2021.  This case has been filed in the USDC – C.D.CA.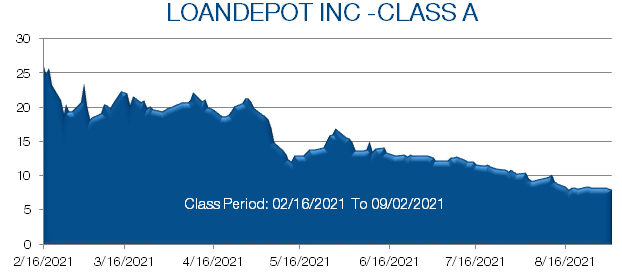 The Complaint alleges that the company's Registration Statement was negligently prepared and omitted to disclose material adverse facts. Specifically, Defendants failed to disclose to investors: (1) that the Company's refinance originations had already declined substantially at the  time of the IPO due to industry over-capacity and increased competition; (2) that the Company's gain-on-sale margins had already declined substantially at the time of the IPO; (3) that, as a result, the Company's revenue and growth would be negatively impacted; and (4) that, as a result of the foregoing, Defendants' positive statements about the Company's business, operations, and prospects were materially misleading and/or lacked a reasonable basis.
By August 17, 2021, loanDepot's stock fell to $8.07 per share, a more than 42% decline from the IPO price, having plummeted in response to information reflecting the materialization of significant risks misrepresented and omitted from the Registration Statement.