A securities class action has been filed against Alliance Data Systems Corporation n/k/a Bread Financial Holdings, Inc. (ADS) on behalf of all persons and entities that purchased Loyalty Ventures common stock between November 8, 2021 and June 7, 2022.  This case has been filed in the USDC – S.D.OH.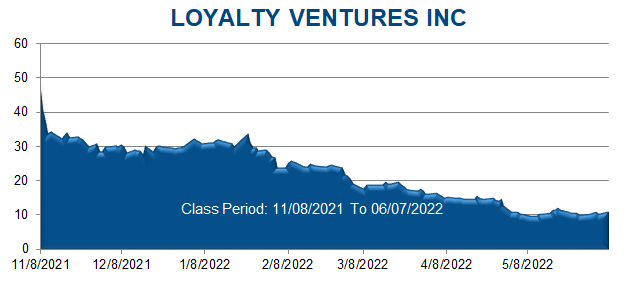 Loyalty Ventures was created as the result of a November 2021 spinoff from ADS. Loyalty Ventures owns and operates the AIR MILES Reward Program ("Air Miles"), an end-to-end loyalty platform, and BrandLoyalty, a campaign-based loyalty program for grocers and other high-frequency retailers. Air Miles' participating businesses ("Sponsors") pay a fee to the Company per reward mile issued, and in return, Air Miles provides all marketing, customer service, rewards, and redemption management. Sobeys Inc., the second-largest supermarket chain in Canada, was the second-largest Sponsor in the Air Miles program.
On November 8, 2021, Loyalty Ventures began trading as an independent public company after being spun off from ADS. In the months leading up to the spinoff, Defendants made statements, including in ADS's SEC filings, touting Loyalty Ventures' prospects as an independent company, including its "strong" and "highly attractive" profile, and highlighting customers such as Sobeys and its "exclusive relationships." Similarly, in the months following the spinoff, Defendants assured investors of the quality of Loyalty Ventures' management team, its business strategy, and its "long-standing customer relationships."
The Class Action alleges that Defendants misled investors and/or failed to disclose that (1) the Air Miles program suffered from a lack of investment prior to the spinoff; (2) as a result, Sobeys had informed Defendants it was considering exercising its early termination rights; (3) the threat of Sobeys' departure loomed throughout 2021 including in the timeframe leading up to the spinoff; (4) Defendants expected the departure of any single large sponsor, such as Sobeys, would have "network effect" on the value of the entire Air Miles program; and (5) the high leverage and debt service obligations foisted upon Loyalty Ventures, in conjunction with the "network effect" impact on the value of the Air Miles business, threatened the Company's ability to continue operations; and (6) as a result, Defendants' positive statements about the Company's financial guidance, business, operations, and prospects were materially false and misleading and/or lacked a reasonable basis at all relevant times.
On June 8, 2022, before the markets opened, Loyalty Ventures issued a press release revealing that the Company and Air Miles Sponsor Sobeys "were unable to align on extension terms," and "consequently, Sobeys provided notice of its intent to exit the program on a region-by-region basis, beginning with Atlantic Canada, between August and the first quarter of 2023." The press release also noted that the "primary impact" of the loss of Sobeys as a customer in 2022 would be "on the number of AIR MILES reward miles issued," and that Loyalty Ventures would re-evaluate its 2022 revenue and EBITDA guidance." In response to this news, the price of Loyalty Ventures shares fell over 45%, from a closing price of $11.03 per share on June 7, 2022, to a closing price of $6.02 per share on June 8, 2022. Loyalty Ventures ultimately filed for Chapter 11 Bankruptcy in the United States Bankruptcy Court for the Southern District of Texas on March 9, 2023.