A securities class action has been filed against Medical Properties Trust, Inc. (MPW) behalf of persons and entities that purchased or otherwise acquired Medical Properties Trust securities between March 1, 2022 through February 22, 2023.  This case has been filed in the USDC – S.D.N.Y.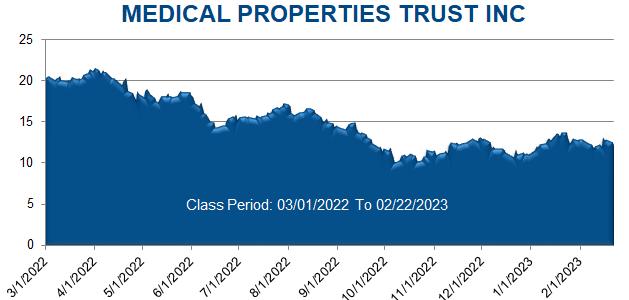 The Complaint alleges that throughout the Class Period, Defendants made materially false and/or misleading statements, as well as failed to disclose material adverse facts about the Company's business, operations, and prospects. Specifically, Defendants failed to disclose to investors: (1) that Prospect Medical Holdings, Inc. ("Prospect") was facing significant pressures affecting the profitability of its Pennsylvania properties; (2) that, as a result, there was a significant risk that Prospect would be unable to meet its rental obligations owed to MPT; (3) that, "given the elongated timing of the Pennsylvania recovery," the Company was reasonably likely to record an impairment charge to the real estate value of the Pennsylvania properties; (4) and that as a result of the foregoing, Defendant's positive statements about the Company's business, operations, and prospects were materially misleading and/or lacked a reasonable basis.
On February 23, 2023, before the market opened, MPT issued a press release announcing its fourth quarter and full year 2022 financial results. On this news, the Company's stock price fell $0.80, or 8.7%, to close at $11.14 per share on February 23, 2023, thereby injuring investors.