A securities class action has been filed against Oak Street Health, Inc. (OSH) on behalf of persons and entities that purchased or otherwise acquired Oak Street securities between August 6 2020 through November 8, 2021.  This case has been filed in the USDC – N.D.IL.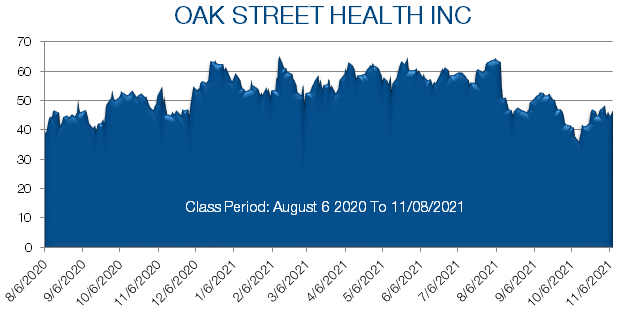 The complaint alleges that in Oak Street's Q3 update on Monday, November 8, 2021, Oak Street revealed that the U.S. Department of Justice (DOJ) is investigating whether the Company may have violated the False Claims Act and said the DOJ has requested documents and information related to Oak Street providing free transportation to federal healthcare beneficiaries and related to its relationships with third-party marketing agents.
On this news, Oak Street's stock price fell $9.75 per share, or 20%, to close at $37.14 on November 9, 2021, damaging investors.