A securities class action has been filed against Ocugen, Inc. (OCGN) on behalf of a class consisting of all persons who purchased or otherwise acquired Ocugen securities between February 2, 2021 through June 10, 2021.  This case has been filed in the USDC – E.D.PA.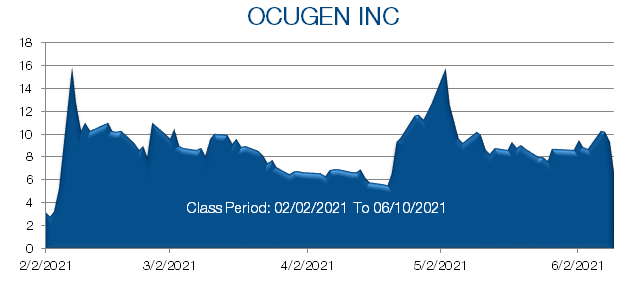 Ocugen is a biopharmaceutical company. Pursuant to an agreement with Bharat Biotech, Ocugen has the exclusive right to develop, manufacture, and commercialize COVAXIN, a vaccine candidate for COVID-19.
On June 10, 2021, Ocugen announced that it would submit a biologics license application ("BLA") for COVAXIN, which has a longer approval process than an Emergency Use Authorization ("EUA") application, and that it anticipated conducting an additional clinical trial to support the submission.
On this news, the Company's share price fell $2.62 per share, or 28%, to close at $6.69 per share on June 10, 2021, thereby injuring investors.