A securities class action has been filed against Rent the Runway, Inc. (RENT) on behalf of all persons or entities who purchased RTR Class A common stock in or traceable to the Company's October 2021 initial public offering (the "IPO").  This case has been filed in the USDC – E.D.N.Y.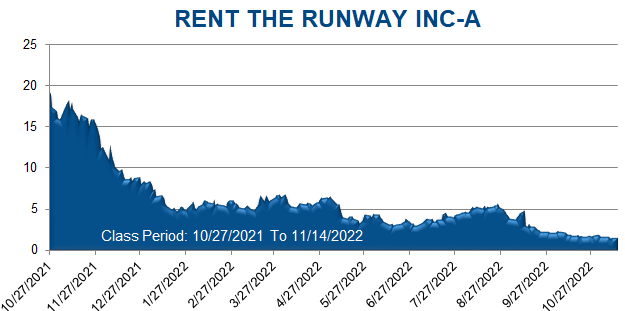 On October 4, 2021, the Company filed with the SEC a registration statement on Form S-1 for the IPO, which, after several amendments, was declared effective on October 26, 2021 (the "Registration Statement").  On October 27, 2021, the Company filed with the SEC a prospectus for the IPO on Form 424B4, which incorporated and formed part of the Registration Statement (the "Prospectus").  The Registration Statement and Prospectus were used to sell to the investing public 17 million shares of RTR Class A common stock at $21 per share for $357 million in gross offering proceeds, which was used in substantial part to pay back debt from certain of the Company's private equity backers.
The Complaint aleges that the Registration Statement was negligently prepared and, as a result, contained untrue statements of material fact, omitted material facts necessary to make the statements contained therein not misleading, and failed to make adequate disclosures required under the rules and regulations governing the preparation of such documents.