A securities class action has been filed against Rite Aid Corporation (RAD) on behalf of a class consisting of all persons and entities other than Defendants that purchased or otherwise acquired Rite Aid securities between April 14, 2022 through September 28, 2022.  This case has been filed in the USDC – E.D.PA.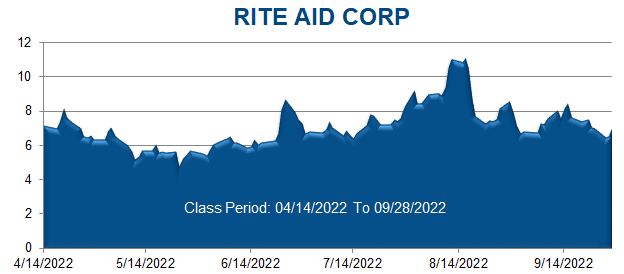 On September 29, 2022, Rite Aid announced a $252.2 million charge for the impairment of goodwill related to the Company's Elixir subsidiary. On an earnings call held later in the day, Rite Aid's Chief Financial Officer, Matt Schroeder, explained that the large impairment charge was triggered by a change in Rite Aid's estimate of lives covered by Elixir for 2023 based on the latest selling season.
On this news, Rite Aid's stock price fell $1.97 per share, or 28.02%, to close at $5.06 per share on September 29, 2022.