A securities class action has been filed against Snap Inc. (SNAP) on behalf of persons or entities who purchased or otherwise acquired publicly traded Snap securities between July 22, 2020 through October 21, 2021.  This case has been filed in the USDC – C.D.CA.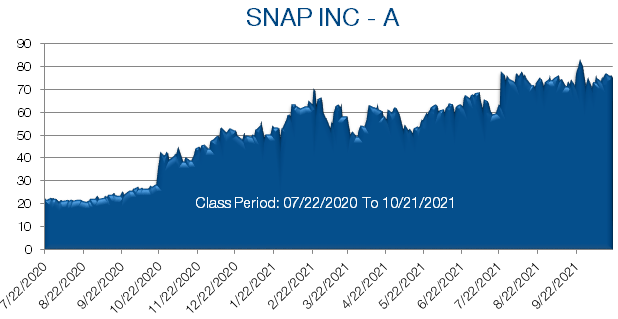 On October 21, 2021, Snap reported its third-quarter 2021 earnings, which missed revenue expectations. Snap cited Apple's privacy changes as a source of disruptions to the Company's advertising business.
On this news, Snap's stock price fell $19.97 per share, or 26%, to close at $55.14 per share on October 22, 2021, damaging investors.
The Complaint alleges that the earnings report statements  were materially false and/or misleading because they misrepresented and failed to disclose the following adverse facts pertaining to the Company's business, operational and financial results, which were known to Defendants or recklessly disregarded by them. Specifically, Defendants made false and/or misleading statements and/or failed to disclose that: (1) Apple's privacy changes would have, and were having, a material impact on the Company's advertising business; (2) Snap overstated its ability to transition its advertising with Apple's privacy changes; (3) Snap knew of, but downplayed, the risks of the impact that Apple's privacy changes had on the Company's advertising business; (4) Snap overstated its commitment to privacy; and (5) as a result of the foregoing, Defendants' public statements and statements to journalists were materially false and/or misleading at all relevant times.