A securities class action has been filed against Stem, Inc. (STEM) on behalf of a class consisting of all persons and entities other than Defendants that purchased or otherwise acquired Stem securities: (a) pursuant and/or traceable to the Offering Documents (defined below) issued in connection with the merger ("Merger") consummated on April 28, 2021 by and among the Company, STPK Merger Sub Corp. ("Merger Sub"), and Stem, Inc., a private Delaware corporation ("Legacy Stem"); and/or (b) between March 4, 2021 through February 16, 2023.  This case has been filed in the USDC – N.D.CA.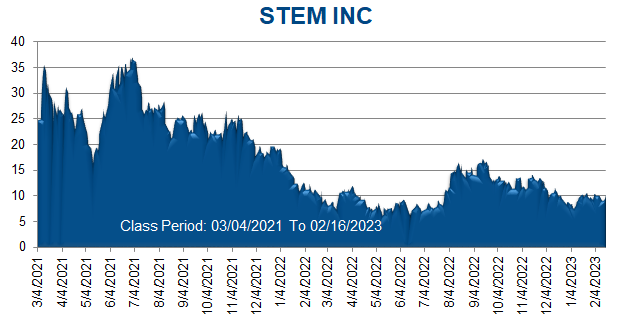 On April 28, 2021, the Company consummated the Merger whereby, among other things, Merger Sub merged with and into Legacy Stem, with Legacy Stem surviving the transaction as a wholly owned subsidiary of the Company; the Company renamed itself "Stem, Inc."; and the Company began operating Legacy Stem's business.
The complaint alleges that the Offering Documents were negligently prepared and, as a result, contained untrue statements of material fact or omitted to state other facts necessary to make the statements made not misleading and were not prepared in accordance with the rules and regulations governing their preparation. Additionally, throughout the Class Period, Defendants made materially false and misleading statements regarding the Company's business, operations, and compliance policies. Specifically, the Offering Documents and Defendants made false and/or misleading statements and/or failed to disclose that: (i) Legacy Stem suffered from material weaknesses in internal control over financial reporting related to accounting for deferred cost of goods sold and inventory, certain revenue recognition calculations, and internal-use capitalized software calculations; (ii) the Company had overstated Legacy Stem's and its own post-Merger business and financial prospects; (iii) Stem's software revenue did not make up 100% of the Company's services revenue; (iv) Stem had overstated the benefits expected to flow from its AP partnership; and (v) as a result, the Offering Documents and Defendants' public statements throughout the Class Period were materially false and/or misleading and failed to state information required to be stated therein.