A securities class action has been filed against Tandem Diabetes Care, Inc. (TNDM) on behalf of all persons or entities who purchased or otherwise acquired securities of Tandem Diabetes between August 3, 2022 through November 2, 2022.  This case has been filed in the USDC – S.D.CA.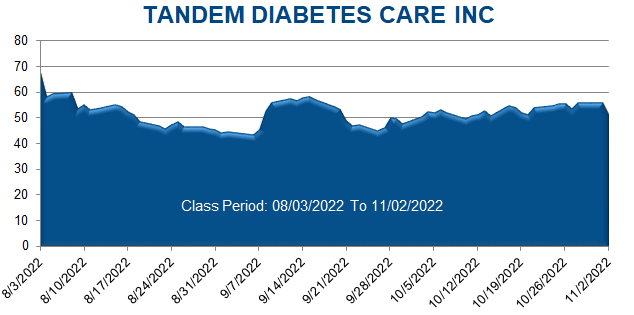 The complaint alleges that defendants provided investors with material information concerning Tandem's projected revenue and sales for the year ending 2022. On August 2, 2022, Tandem estimated annual sales "to be in the range of $835 million to $845 million, which represents an annual growth of 19 percent to 20 percent compared to 2021." Defendants provided these statements to investors while, at the same time, disseminating materially false and misleading statements and/or concealing material adverse facts.
The truth emerged on November 2, 2022, when Tandem, in an investment call and Form 8-K filing, revised its 2022 forecast downward to $800 to $805 million. Reasons stated for the scale back included increased competition in the diabetes care sector, complications due to the COVID pandemic, and macroeconomic factors such as inflation. Investors and analysts reacted immediately to Tandem's revised guidance. The price of Tandem's common stock declined dramatically.
On November 2, 2022, Tandem closed at $51.34; however, on November 3, 2022, Tandem closed at $35.72 – a one-day decline of 30.4%.