A securities class action has been filed against Teleperformance SA (TLPFY) on behalf of all persons who purchased or otherwise acquired Teleperformance SE American Depositary Receipts between July 29, 2020 through November 9, 2022.  This case has been filed in the USDC – ID.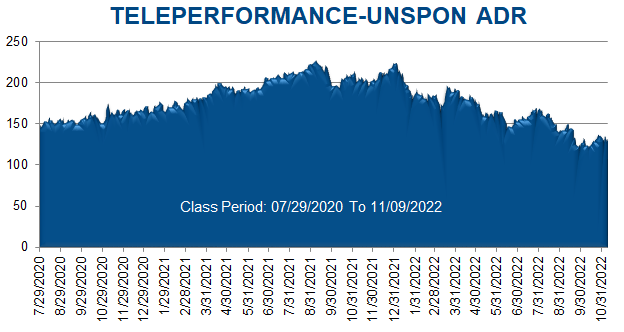 The Complaint alleges that throughout the Class Period, Defendants made false and/or misleading statements and/or failed to disclose that: (i) Teleperformance's growth in Core Services and Digital Integrated Business Services, which included content moderation services, had been achieved, in part, by requiring its content moderators to engage in inappropriate, traumatic, abusive, and potentially criminal activities; (ii) certain Teleperformance social content moderators had been trained with materials which included illicit images of child sexual exploitation; (iii) contraband images had been included in Teleperformance Daily Required Reading reports for its content moderation staff; (iv) Teleperformance had failed to safeguard child sexual abuse material and had potentially violated strict rules governing the handling of such materials, including rules relating to the National Center for Missing & Exploited Children; (v) Teleperformance had failed to provide adequate training or emotional and psychological support to content moderators exposed to egregious materials, including those exposed to extreme graphic violence and sexual images; (vi) Teleperformance had imposed unreasonable time and performance targets that compounded the occupational trauma suffered by its content moderators; and (vii) Teleperformance had failed to implement or maintain the working conditions represented to investors, including by subjecting Teleperformance's content moderation workers to widespread occupational trauma without psychological support, and with paltry pay, punitive salary deductions, extensive surveillance, and aggressive union-busting tactics.
On August 4, 2022, Forbes published an article entitled "TikTok Moderators Are Being Trained Using Graphic Images Of Child Sexual Abuse," revealing that Teleperformance had subjected its workers to unconscionable working conditions, including being "shown uncensored, sexually explicit images of children." On this news, the price of Teleperformance ADRs fell by nearly 5%.
Then, on November 9, 2022, Time reported that "Colombia's Ministry of Labor has launched an investigation into TikTok subcontractor Teleperformance, relating to alleged union-busting, traumatic working conditions and low pay." On this news, the price of Teleperformance ADRs declined nearly 19%, further damaging investors.