A securities class action has been filed against United States Cellular Corporation and Telephone and Data Systems, Inc. (TDS) on behalf of all persons or entities who purchased or otherwise acquired TDS securities between May 6, 2022 through November 3, 2022.  This case has been filed in the USDC – N.D.IL.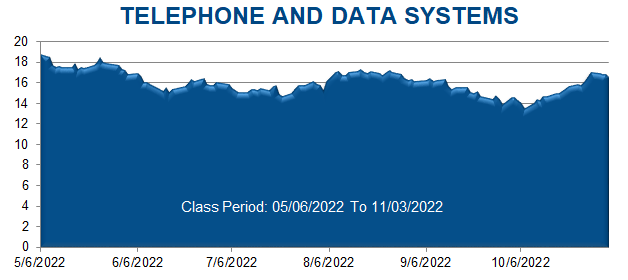 After market closed on November 3, 2022, UScellular announced results for the third fiscal quarter ended September 30, 2022, including that service revenues totaled $781 million, versus $788 million for the same period in the previous year, and that net income (loss) attributable to UScellular shareholders and related diluted earnings (loss) per share were $(12) million and $(0.15), respectively, for the third quarter of 2022 compared to $34 million and $0.38, respectively, for the third quarter of 2021. UScellular also announced that it was reducing the Company's fiscal year 2022 outlook, such that the upper bounds for the ranges of fiscal 2022 guidance concerning service revenues, adjusted OIBDA, and adjusted EBITDA were lowered by $50 million, $75 million, and $75 million, respectively.
Following this news, UScellular's stock price fell more than 22%, declining from a closing price of $31.05 per share on November 3, 2022 to a close of $24.09 on November 4, 2022.