A securities class action has been filed against Tupperware Brands Corporation (TUP) on behalf of a class consisting of all persons and entities other than Defendants that purchased or otherwise acquired Tupperware securities between November 3, 2021 through May 3, 2022.  This case has been filed in the USDC – S.D.N.Y.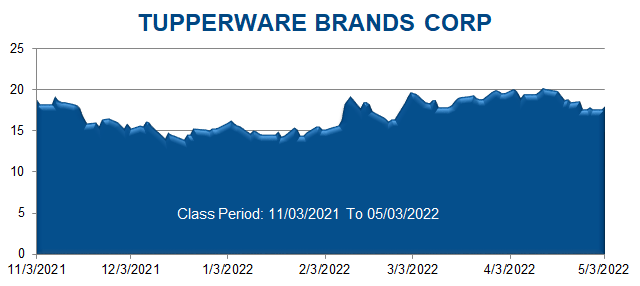 On May 4, 2022, Tupperware announced its financial results for the first quarter of 2022. Among other items, Tupperware reported adjusted EPS from continuing operations and net sales that fell well short of consensus estimates. Tupperware also withdrew its full year 2022 guidance and named a new Chief Financial Officer. The Company attributed the poor performance to the conflict in Russia and Ukraine. However, when pressed by analysts on a conference call, the Company acknowledged that Russia and Ukraine only accounted for 2% of its revenue.
On this news, Tupperware's stock price fell $5.76 per share, or 32.16%, to close at $35.05 per share on May 4, 2022.