A securities class action has been filed against Twitter, Inc. (TWTR) on behalf of all persons and entities who sold or otherwise disposed of Twitter between March 24, 2022 through April 4, 2022.  This case has been filed in the USDC – S.D.N.Y.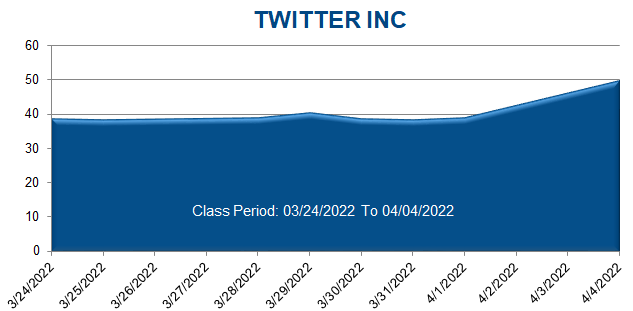 Elon Musk ("Musk"), the founder of Tesla and Space-X, and according to Forbes, the richest person in the world, started to acquire shares of Twitter beginning in January 2022. By March 14, 2022, Musk had acquired more than a 5% ownership stake in Twitter, requiring him to file a Schedule 13 with the United States Securities and Exchange Commission ("SEC") within 10 days, or March 24, 2022.
Musk did not file a Schedule 13 with the SEC within the required time and instead continued to amass Twitter shares, eventually acquiring a 9.1% stake in the Company before finally filing a Schedule 13 on April 4, 2022. By the time Musk filed the required Schedule 13, revealing his ownership stake in Twitter, the Company's share rose from a closing price of $39.31 per share on April 1, 2022, to close at $49.97 per share on April 4, 2022 – an increase of approximately 27%.
The Complaint alleges that throughout the Class Period, Musk made materially false and misleading statements and omissions by failing to disclose to investors that he had acquired a 5% ownership stake in Twitter.