A securities class action has been filed against Unisys Corp. (UIS) on behalf of investors who acquired Unisys securities between August 3, 2022 through November 7, 2022.  This case has been filed in the USDC – E.D.PA.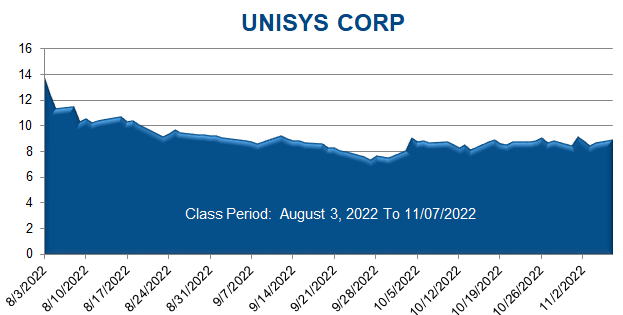 According to the complaint, throughout the Class Period, the Unisys Defendants, allegedly, made materially false and misleading statements regarding the Company's business, operations, and prospects. The class action complaint alleges that the Unisys Defendants made false and/or misleading statements and/or failed to disclose that (i) the Company's 2022 financial guidance was significantly overstated; (ii) accordingly, once the truth was revealed, it was likely that the Company would be required to negatively revise its 2022 financial guidance; (iii) in addition to the foregoing, material weaknesses existed in the Company's internal control over financial reporting; and (iv) as a result of all of the foregoing, the Company's public statements were materially false and misleading at all relevant times.
On November 8, 2022, Unisys stock dropped significantly after Unisys announced financial results for the third quarter of 2022, in addition to disclosing an ". . . internal investigation regarding certain disclosure controls and procedures matters, including, but not limited to, the dissemination and communication of information within certain parts of the organization."
Additionally, Unisys reported that it ". . . expects that it may determine that there are one or more material weaknesses in its internal control over financial reporting, which may result in a conclusion that the Company's disclosure controls and procedures and internal control over financial reporting are not effective."
Shares of Unisys stock dropped more than 48% in intraday trading on November 8, 2022.