A securities class action has been filed against Weber Inc. (WEBR) on behalf of persons and entities that purchased or otherwise acquired Weber Inc. ("Weber" or the "Company") (NYSE: WEBR) Class A common stock pursuant and/or traceable to the registration statement and prospectus (collectively, the "Registration Statement") issued in connection with the Company's August 2021 initial public offering.  This case has been filed in the USDC – N.D.IL.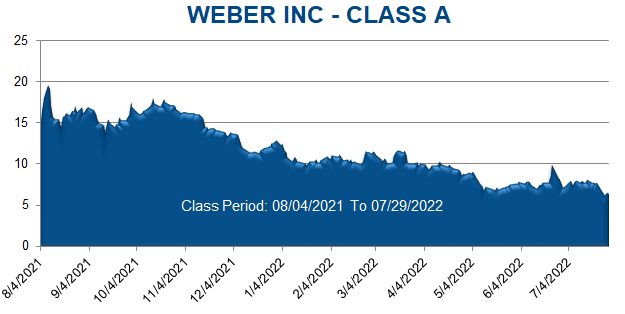 On or about August 6, 2021, the Company completed its IPO, selling approximately 17,857,143 shares of Class A common stock at a price of $14.00 per share.
On July 25, 2022, before the market opened, Weber announced its preliminary third quarter 2022 financial results, including net sales between $525 million and $530 million. The Company expected to report a net loss, noting that "[p]rofitability was negatively impacted by" several factors, including "promotional activity to enhance retail sell through." Additionally, Weber announced that Chris Scherzinger "is departing" from his roles as Chief Executive Officer and director of the Company.
On this news, the Company's stock price fell $1.21 per share, or 16%, to close at $6.30 per share on July 25, 2022, on unusually heavy trading volume.
By the commencement of this action, the Company's stock was trading as low as $6.25 per share, a nearly 55% decline from the $14 per share IPO price.
The complaint filed in this class action alleges that the Registration Statement made materially false and/or misleading statements, as well as failed to disclose material adverse facts about the Company's business, operations, and prospects. Specifically, Defendants failed to disclose to investors: (1) that Weber was reasonably likely to implement price increases; (2) that, as a result, consumer demand for Weber's products was reasonably likely to decrease; (3) that, due to the resulting inventory buildup, Weber was reasonably likely to run promotions to "enhance retail sell through"; (4) that the foregoing would adversely impact Weber's financial results; and (5) that, as a result of the foregoing, Defendants' positive statements about the Company's business, operations, and prospects, were materially misleading and/or lacked a reasonable basis.