A securities class action has been filed against Zymergen Inc. (ZY) on behalf of persons and entities that purchased or otherwise acquired Zymergen common stock pursuant and/or traceable to the registration statement and prospectus (collectively, the "Registration Statement") issued in connection with the Company's April 2021 initial public offering. This case has been filed in the USDC – N.D.CA.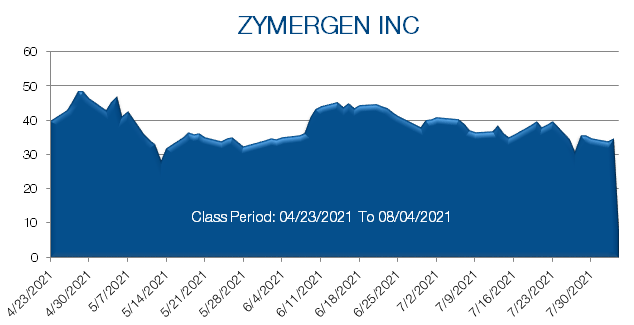 In April 2021, Zymergen completed its IPO, selling approximately 18.5 million shares of common stock at $31 per share.
On August 3, 2021, after the market closed, Zymergen issued a business update stating that it "recently became aware of issues with its commercial product pipeline that will impact the Company's delivery timeline and revenue projections." Specifically, "several key target customers encountered technical issues in implementing Hyaline into their manufacturing processes," and Zymergen also found that its total addressable market appears to be smaller than previously expected. As a result, Zymergen "no longer expects product revenue in 2021, and expects product revenue to be immaterial in 2022." The Company also announced that its CEO was stepping down, effective immediately.
On this news, the Company's stock price fell $26.58 per share, or 76%, to close at $8.25 per share on August 4, 2021, representing a nearly 73% decline from the IPO price.
The Complaint alleges that the Registration Statement was materially false and misleading and omitted to state material adverse facts. Specifically, Defendants failed to disclose to investors: (1) that, during the qualification process for Hyaline, key customers had encountered technical issues, including product shrinkage and incompatibility with customers' processes; (2) that, though the qualification process was critical to achieving market acceptance for Hyaline and generating revenue, Zymergen lacked visibility into the qualification process; (3) that, as a result, the Company overestimated demand for its products; (4) that, as a result of the foregoing, the Company's product delivery timeline was reasonably likely to be delayed, which in turn would delay revenue generation; and (5) that, as a result of the foregoing, Defendants' positive statements about the Company's business, operations, and prospects, were materially misleading and/or lacked a reasonable basis.