In re: Irving Firemen's Relief and Retirement Fund v. Lawrence E. Page, C.A. No. 2019-0355-SG (Del. Ch.)
In a derivative lawsuit settlement with one of the highest dollar values ever, Google parent Alphabet agreed to establish a diversity, equity, and inclusion fund as part of the settlement of the consolidated derivative litigation relating to the Company's alleged mishandling of sexual harassment allegations against senior executives and overall culture of sexual discrimination and harassment. If the initiatives increase the number of women in Alphabet's workforce by a modest 10%, the Company's market capitalization will be increased by $1.19 billion.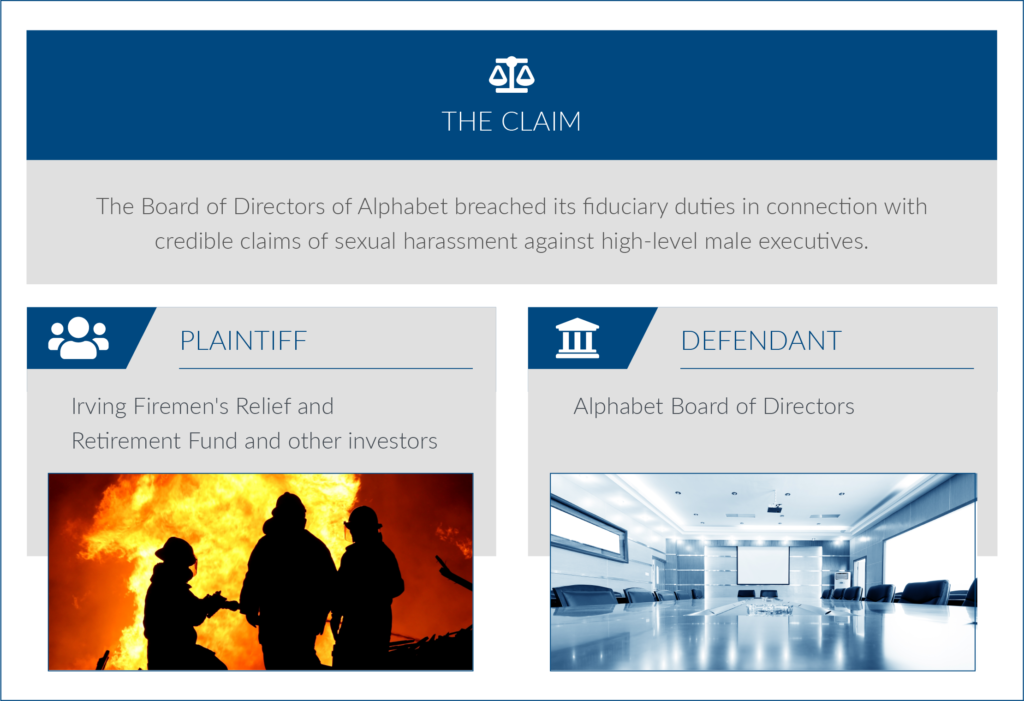 In October 2018 over 20,000 Google employees walked out after the New York Times reported that a committee of Alphabet's Board had approved a $150 million stock grant for Android creator Andy Rubin, weeks after the Company had opened an investigation into allegations of sexual misconduct and subsequently awarded Rubin a $90 million severance package even after the investigation deemed the allegations credible.
On May 14, 2019, Plaintiff Irving Firemen's Relief and Retirement Fund filed an action in the State of Delaware alleging the failure of certain Company officers and directors to appropriately deal with former high-level executives who had been credibly accused of sexual misconduct, and the company's failure to improve the culture for women at Alphabet.
On September 25, 2020 the game-changing settlement Scott+Scott negotiated with Defendants, along with Co-Lead Counsel in the consolidated action in the Superior Court of California, was approved.